Merry Christmas
2001
Another year has gone by, and it's time again to wish you all well, and tell you on what we have been up to! I hope you all have had as good a year as we have had. As usual, we have been very busy trying to keep up with work and the kids schedules. 2001 began in a much nicer fashion than 2000, as I wasn't worried about y2k bugs, and was able to spend new years at home with the kids and family (and Brian's family), instead of at the water pumping stations. As I am preparing this message, and gathering all the photo's, I am reminded of how lucky our family is that we have such a multitude of wonderful friends. We truly enjoy and treasure all of these friendships. We have many friends at home in Camrose, and also seem to have friends everywhere we go. If we don't, we always seem to be lucky enough to meet more wonderful people. I had to severely edit our first list of photo's and stories, so I'm sorry that I can't mention everyone.
I hope you enjoy our Christmas Message this year. You can go to each section in any order you want to, or just keep hitting the 'next' button. If you want to print the whole thing at once click here.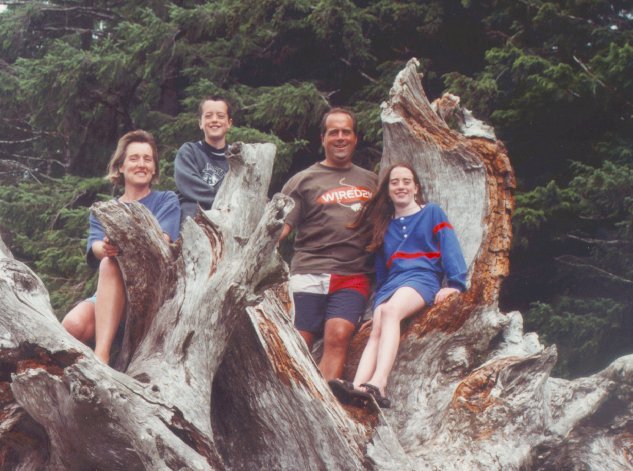 We are sitting on top of the root-ball of a tree that washed up on the shore of Nitinat lake on Vancouver Island
Merry Christmas and Happy New Year
Ted Laura Spencer & Louise
---
If you want to print this message, Click here to view everything at once (may take a while to download), then choose PRINT. This way you don't have to print each section separately.
or
Send us an email at ted-lou@telusplanet.net, and we will email you a word file.
---
---