I hope the season finds you all happy and well. 2007 has been a different sort of year for us. It has been a very hard year for several of our friends, who have suffered tragedy in the way of passing of loved ones, job loss, disease (cancer), and other calamities. Our thoughts and best wishes go out to them. It makes us realize how truly lucky we have been in our family.

We have seen several changes. Laura graduated from High School, and moved out of the house to attend the University of Alberta, Augustana Faculty in Camrose. The move came on suddenly. We thought she was going to spend the year at home. Then she had an opportunity to house sit for a friend who went to Spain for 8 weeks. Then – she just didn't move home – found a good deal on a basement suite close to the university.

Louise and I went to the Isle de Margarita in Venezuela on a "windsurfing holiday" at the end of March where I celebrated my 50th birthday. They say it is one of the windiest places in the world, and March/April is the most consistent time of the year for the wind.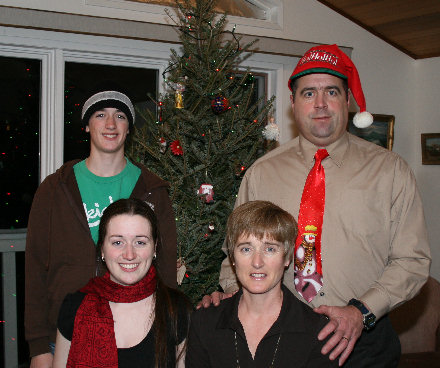 Merry Christmas from Laura, Louise, Ted and Spencer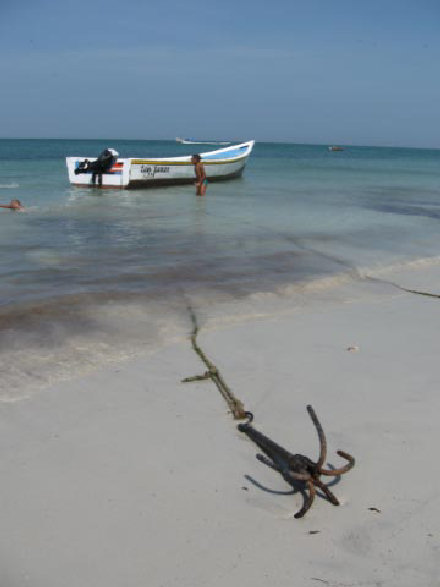 We met several of our windsurfing friends from Edmonton there, so had lots of fun and fellowship. It is a very beautiful country, with friendly people, and good food. Unfortunately, there was almost no wind - so the windsurfing was a bit of a bust..
Venezuelans also celebrated their Samanta Sana (Easter) holiday while we were there. It seems that everyone in Venezuela goes to Margarita Island for three days to drink rum, and stand on the beach (there isn't room to sit...). While the scenery was quite "interesting", the crowds got tiring in a hurry. Even I was getting tired of all the silicone…
Spencer started Grade 10 at the high school, and is expecting to get his driver's license on his birthday next March. Louise and I are finding ourselves with some time alone together – which is nice.
In May, I went through an interview process for a promotion to City Manager. Unfortunately I was not successful. They brought in a fellow from Saskatchewan to take the position. I am still trying to come to terms with that decision. Unfortunately most options would require relocation from Camrose, (and our lake lot), and that is something we don't really want to do….. Council's decision not to hire me for City Manager made my decision to go on a June windsurfing trip with the Edmonton Gang an easy one. Great week with friends, and some good sailing.
Coche Island Paradise

Spencer broke his foot on the last day of School last fall, playing basketball with friends. That meant that his wakeboarding (new bindings the week before), dirt biking (we just got him an older Honda 250 RX dirt bike), his swimming and windsurfing would be severely curtailed for most of the summer. He was very careful with his foot – and was able to start having fun by the end of the summer.

Our annual trek to Vancouver Island didn't go as planned either. We arrived at our friends' house in White Rock, only to be informed that the weather on the Island was socked in. We spent a few days in Vancouver – and had a very nice visit with Aunt Norah. We were then invited to Hornby Island to spend a few days at Caroline's parents' cabin. Although the weather wasn't great, we spent a couple of very nice days with her parents, Herman and Brenda.

Crab Hunting on Hornby Island

The kids learned how to hunt crabs in the bay, and dig for (and cook) oysters on the beach. They were also able to attend a Harry Potter Party at the local bookstore and got two copies of the final book in the series. (The kids were worried that if we were at Nitinat on the Island, we wouldn't be able to get a copy until after the holiday). Laura had all 700 pages read by 11:00 the next day. It took Spencer and I a bit longer, and mom finished on the trip home. Great book – the best one yet – too bad it is the last.

We finally made it in to Nitinat as the weather was clearing, about a week late. We hadn't even finished setting up camp, when Laura, (walking on a log with her hands in her pockets), slipped and fell hard on her face. We headed back out on the logging roads to Duncan Hospital. She needed some stitches under her chin.

Reading Harry Potter - Hornby Island

We were worried that she would need her Jaw wired shut, but they finally were able to analyze the x-ray and told us it wasn't broken. It turned out when she went to the dentist at home, that it was in fact broken. There isn't much they can do without very intrusive surgery, (which may cause more problems than it would fix), so she is doing exercises to straighten out her bite, will probably be seeing the specialist for the rest of her life, and can't ever chew gum again. Laura took it all in stride, and it hasn't seemed to affect any of her activities, including singing. The weather at Nitinat cleared for a few days, and we got in some sailing. It was great seeing all our Nitinat friends again. We cut the holiday short, as the weather was starting to close in again. The Motorhome ran like a charm both ways with no problems – that was a big relief.

Nitinat Log....

In September I went on our bi-annual windsurf trip with the Edmonton gang to Hood River. Great trip with lots of wind. (Maybe my wind doldrums spell is finally broken). After some initial confusion with teachers and volleyball tryouts, Spencer flew down and met me Tuesday night. He then sailed with us for four days. Two of those days were the two windiest days the Gorge had seen all summer with winds of 50mph or more. He did extremely well and started learning how to wave ride. I think the guy's enjoyed having him around – and he got lots of expert sailing advice from Ross and Andreas – and lots of "other" advice from the rest of the gang . I hope he can come again on another trip – although Louise has said the spring trip is out of the question because he will be finishing up the school year and studying for exams.

Dad and Spencer - Windsurfing

October and November have been a blur with work. Several back-to-back 80+ hour weeks trying to get our projects complete and our 2008 budget prepared. With both a new Treasurer and City Manager, the expectations are different and there is much confusion about what is to be presented to Council. This resulted in significant extra work.

Hard to believe Laura turned 18 at the end of November. She is an extremely independent young adult. It's interesting that when she comes to visit every now and then, she seems to appreciate Louise's cooking more than she ever did when she lived at home.

Laura and Spencer - Vancouver - visiting Aunt Norah
In spite of a few minor set backs – really another pretty good year. A highlight this December, was a short notice, single day ski (boarding) trip to Sunshine with Laura, and my friend Hans & his kids (adults), Lindsay and Jon. Great day, fabulous sunshine, good snow, and lots of fellowship. We are extremely lucky to live where we do, and have such wonderful friends who we enjoy immensely.
I hope you enjoy our webpage / Christmas message again this year.
It will give you an idea of what we have been up to...
We hope that you have also had a great year! Merry Christmas and Best Wishes in 2008.
Ted
(If you have a program that blocks pop-ups - the external links on my site won't work. You can either click the button on your browser to "Allow Pop-Ups", or copy the link and paste it directly into your browser.)