Louise / Mom


Wow - another year has come and gone. Ted and I zipped away to Huatulco in January... just after my 50th Birthday (yikes) - and, once again, it was a wonderful holiday. I love the snorkeling, reading - and lack of cooking!

We had fun at home too - and even managed to go skiidooing with Paulette & Brian at Lake Isle.

Never a dull day at the school :- ) The kids are great - just not enough hours in the day.

I had a fun break in May with Paulette & Sandy - when we flew to Las Vegas for a few days. More info on our Holiday Page.

We managed a few trips to visit Spencer in Calgary - and to transport his belongings back and forth. It's always a good reason to visit with Paulette & Brian in Airdrie - or with Marc & Tina. This past Fall we got to check out Marc & Tina's spot at Ghost Lake - loved it!
Rosebud is another spot we visit frequently throughout the year. What a wonderful community for Laura to be a part of! Whether it is going down for a performance (which we always enjoy) - or just a visit - Rosebud is fun! Excellent performances - fun shopping - great food!


Spencer was based from home for the summer - and Laura came home most weekends. We had lots of fun on the water with the kids - their friends - and our friends. Ted and I also had fun on our motorbike trips - despite the wind.



Louise and her sister Paulette
Skidooing at Brian and Paulette's Lake

The Boat
At the end of August we hosted Chris & Leslie who were here as part of a Rotary Friendship Exchange. It was just for a couple of days - but lots of fun! More photos are on our Friends and Family Page.

Although Ted was away for our anniversary in October - he surprised me with a photo book he'd made ... a wedding albumn, of sorts :- )

You can view it here...The Book!

This Fall has just flown by - but I'm looking forward to my Christmas break.... Having the kids home - and getting a few things done around the house.




Best wishes for a wonderful New Year!






Merry Christmas!
Louise


Louise and our neighbours grandson
---
| | |
| --- | --- |
| Still cutting a mean swath... | Louise ready for another Motorbike Trip! |
| Louise on SUP | (Stand Up Paddle Board) |

Laura and Louise

Warm weather in Mexico
Celebrating my 50th Birthday with friends!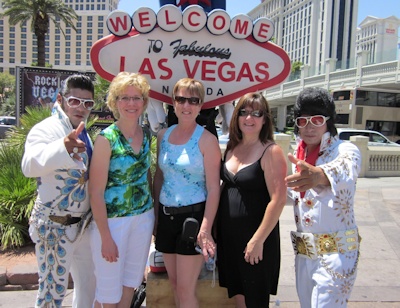 A girl's Getaway in Vegas...
Elvis, Sandy, Louise, Paulette, and Elvis!
Louise loves her flowers.......and sunsets...






Spider web in our tree....


---
---
---
For extra fun - have a look at our Christmas Past !!!
---