Ted / Dad

I can't believe another year has gone by already.... At least I am getting a head start on this Christmas website. As of November 30, I am about 80% done... We will see if I can get the last 20% done in time for Christmas.....

2012 was a very good year for our family. We visited lots of friends, traveled a bit, had lots of fun on the lake, and saw the kids quite a bit during the summer.

I turned 55 in April, so am now officially a "Senior" by many definitions. My friend Bob even gave me a complete listing of all the stores and restaurants where I can get seniors discounts. Gee thanks a lot (I think). I don't feel any older - that is until after Volleyball, or Windsurfing - then it takes a little longer to get moving again...

We had a few milestone birthdays this year. Louise turned 50 (oops - don't know if I was supposed to tell you that), and in March, Spencer turned 20 (no more teenagers our family), and Mom/Grandma turned 85. I hope I am in as good shape as Mom is when I am her age. More photos of her birthday here...


Ted after a Windsurfing session on the Lake!

Had to splurge at the Edmonton Boat show in the spring with a new Wake Surf Board and new Wake board.

Louise and I are getting used to being "Empty Nesters". We even get to go out on a date every now and then. It's pretty nice!

In February, we headed to Mexico for a week with friends in Las Brissas, Huatulco. It was a great week with lots of warm weather, tennis, volleyball, snorkeling, and just lying around on the beach. More on that on our Holiday Page.

Bob Klatt and I helped coach Badminton at the High School again this year - but it was a bit frustrating because the school only allows us a few weeks to practice before the competitions, and even then cancels half of the practice nights for Basketball or other school activities. We will probably be looking for a different school next year... Bob is talking about the possibility of starting a Junior Club team which could have a much longer season outside of the school.



I continue to be very busy at work. Some staff changes we had to make, resulted in me doing two jobs over the summer, so even busier. We continue to work on our two major projects; A major reconstruction and face lift for our Main Street, and a new Swimming Pool and Fitness Centre. Both projects are cutting edge, and I hope when they are complete, they will start to make a real difference in Wetaskiwin. With luck, both will be complete and open prior to the Municipal Election in October 2013. I am looking forward to being one of the first to try the Surfing Machine in our new swimming pool!

I am very lucky to have a bunch of friends who like to windsurf. They like it so much, in fact, that they travel to Hood River Oregon for a week, twice a year, to windsurf, mountain bike, road bike, golf, and drink beer. This year, once again, I was able to get away for a week in June, and then again in September.



Windsurfing an "Easterly" on the Columbia River!
<< Link to Spring Trip Blog >>
<< Link to Fall Trip Blog >>
(Remember you read Blogs from the bottom up
- the last post is on the top of the page...)

I think we had 14 guys with us in the spring and 12 in the fall. We needed to rent three condo's (side by side) in order to accommodate us all. It is lots of fun, and we were lucky to get lots of wind which made the trip another epic event.

It always amazes me how well we get along as we all have very different professions and interests (other than a passion for Windsurfing). More photos on our Holiday Page.

Clockwise from Me, Gerry, Blaine, Ross, Al, Handre, Blaine, Harold A., Big Air Jim, Kent, and Eddy
(Missing from the photo are Harold W., Big Jim, Cam, Mike, and Andreas.)
Can you tell that I photo-shopped myself in after I took the pix?

Louise and I did a bit of SUPing again this year.
I did a few 5km workouts on nice mornings.


Las Brisas in Mexico with Louise
In May, a delegation from our Sister City, Ashoro, Japan visited Wetaskiwin to attend an Alberta - Japan Sister City Conference which was being hosted in Wetaskiwin. Alberta has been twinned with Hokkaido Province in Japan since 1980. For the last 22 years, Wetaskiwin has been a Sister City to the town of Ashoro, and take part in an annual student exchange program.

In October, for the first time ever, the Japanese equivalent of the Conference was to take place in Ashoro. Our City decided to send a delegation, and I was lucky enough to be allowed to participate.


I didn't realize that there were aboriginals in Japan. Here we visited an Aboriginal Village and tried on Samurai outfits. Ian is going to get his head chopped off.... :<)

Ted, in Ashoro Japan at a Rotary Meeting with my Mayor Bill Elliot, one of my Aldermen Glenn Ruecker, the president of the Ashoro Rotary Club and the Mayor and Chairman of the Town of Ashoro.


We visited several Schools. We were very different (tall, big, etc), but it didn't take long for the kids to become friendly.

The Japanese people are very friendly and respectful. Respect and honour is very important to them. There is no such thing as vandalism or litter in Japan. I watched people leave their wallet on the table in order to save their seat while they went to the washroom.

While in Ashoro, I had the pleasure of staying with Kenji Murakami, his wife Hiromi, and their children Takeya and Kanako. They welcomed me into their home as family. Kenji knew some English, but neither the kids or his wife Hiromi new any English - and I new only how to say hello and goodbye in Japanese - so we had lots of fun playing charades and using google translate to try to make ourselves understood to each other. I enjoyed their company, and learning about their way of life.

They are are a wonderful family.

My Family in Japan.
Hiromi, Takeya (who is 9 years old, in Grade five and loves Baseball and Swimming), Kenji (Who works for the Town of Ashoro), and Kanako, (who is 15 years old and in Grade Nine. She likes Volleyball and Texting on her I-Phone)..

Me reading a letter from MLA Verlyn Olson to the conference delegates.
I tried many different foods (never though I would eat raw fish and enjoy it...), used chopsticks the whole time I was there (never touched a fork), and learned about sakie and their local wines and beers.

We toured a winery, their sports center, an evnironmental park owned by a candy company, went to the horse races Ban ba, learned about all their environmental and recycling programs, and saw many other interesting sites.

I will be putting together my photos, but won't have them all ready for Christmas or this website.
I have been serving as the President of our local Wetaskiwin Rotary Club this year. (My term is July 1, 2012 to July 1, 2013).

I asked our contacts in Japan if it would be possible to meet the Rotary President and/or attend a meeting when I was over there. (As we were only in Ashoro for 2.5 days I didn't know if it would be possible).

As it turned out, not only was there a meeting, but at the meeting, the Ashoro Rotary Club were celebrating their 50th Anniversary. I was able to bring greetings and congratulations from our club, as well as exchange club banners.


Ted bringing greetings to the Ashoro Rotary Club on behalf of the Wetaskiwin Rotary Club and also Congratulating the Club on 50 years of Service.
While I was in Japan, Louise and I celebrated our 25th Wedding Anniversary... oops.... (I did remember to send flowers at least which was complicated because I was on the other side of the date line).

Louise is very forgiving - but I am sure I will be making it up to her soon. Did I hear her say "Walking tour of Italy with Kathy?"......


Ted and Louise - Rotary Mexican Fiesta Evening

When I attended a Rotary Convention in Grande Prairie, I got to try out their "Flow Rider" at their "East Link" Community Centre.


Mayor Bill Elliot and Reeve Gary Deering sign a Mutual Fire Aid Agreement with the Four First Nation Communities in the Hobema area. First of it's kind in Canada.

Another interesting thing that happened at work this year, was that we were able to sign a mutual aid Fire and Emergency Services agreement, between the City, the County and the four First Nations peoples in Hobema. I understand it it may be the first time in Canada that an agreement like this has been signed with four separate First Nations communities all cooperating.

Our council have made it a priority to participate in many of the local Aboriginal ceremonies which may have helped, but one of our Aldermen, Patricia MacQuarrie, and our Fire Chief, Merlin Klassen did a lot of work to build relationships with the four bands and their respective fire departments.

The signing ceremony was a lot of fun, with Native prayers, drummers, full head dress, and fire demonstrations. Here is a link to our photo book.


Fire Suppression demonstration.

Louise and I went for a few (fairly short) motorbike rides this summer. We both agree that our rear ends are good for about an hour in any direction before we need a break.

Whether lunch in Stettler or lasagna at the Bruce Hotel, it is fun to get out on the road on a nice day.....although Louise complains that it always seems to be windy when we are riding the bike.

I had to explain that it is usually blowing about 100kph when we are driving down the road..... :<)





Lunch at the Bruce Hotel - very nice...


Spencer invented a new sport - sit down surfing..
and yes - I was able to get the hang of it,
let go of the rope and surf behind the boat "sitting down" ...


We had lots of fun on the lake this summer with Laura and Spencer. The way their summer jobs worked, they were home most weekends. I was able to take some Monday and Fridays off work to make about half of the summer weekends long weekends.

Laura and Spencer each had lots of friends who came out, so I had a great time driving the boat, and taking my turn wakeboarding, wake surfing, or water skiing with Spencer, Laura and all of their friends.

It was after dark on several occasions when we finally got back to the dock.

Brother-in-Law Ross and his son Graham also came out a few times mid week in the evening, to Wakeboard, Wake Surf, Barefoot Ski, and Slalom ski.

Lots of fun, and it forced me to get out - which is good.


After a great summer, the snow came early this year (end of October), and looks like it may stay.

Spencer has already been snow boarding to Lake Louise with his U of C Ski Club gang.

I hope that the skidooing will be good this year. Louise and I had a great ride in November. Looking forward to more to come.

Louise and I after our First Skidoo ride of the Season.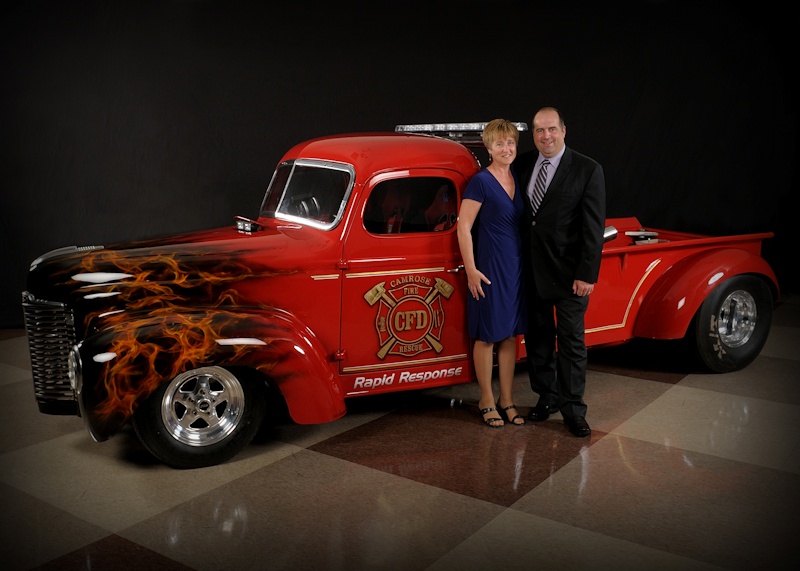 Louise and I attended the "Firemen's Ball" in Camrose - February 2012
Thanks to my friend Sean for the photo. S&L Photography.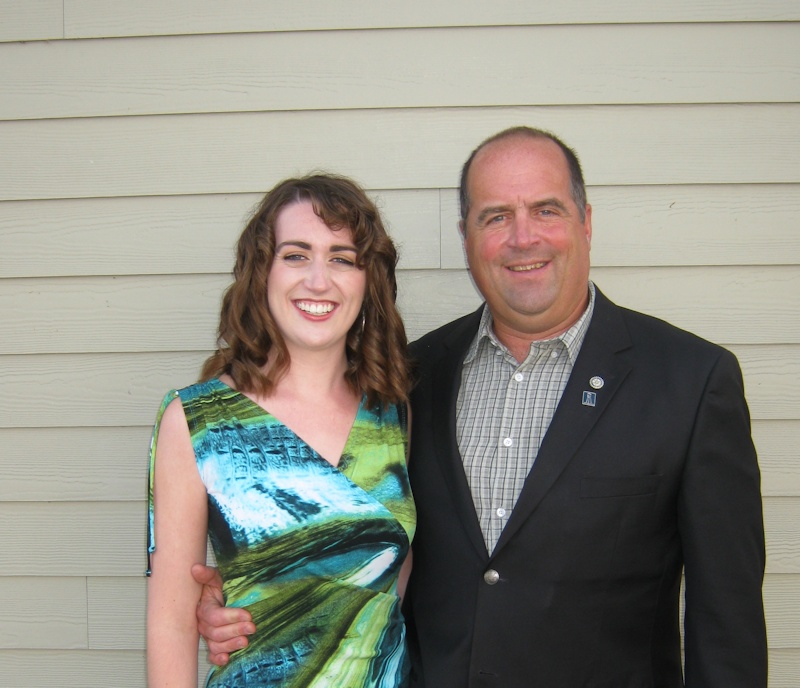 Visiting Laura in Rosebud - I don't get to see her as often as I would like...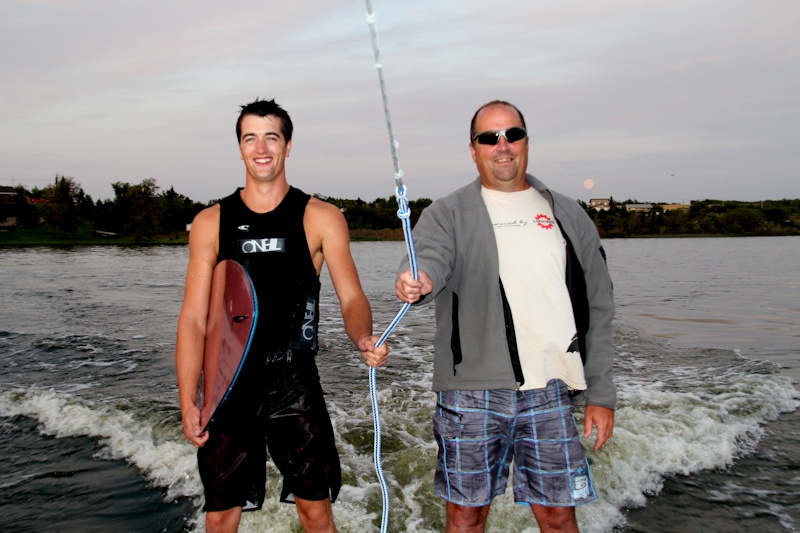 Spencer and I on the back of the boat.

As we move closer to Christmas, we are getting busier and busier with Christmas parties and events almost every weekend. I am looking forward to sometime in the future when things aren't quite as hectic, but we are looking forward to seeing many friends and family over the holidays. If we didn't get to see you this year, I hope we can see you next year!

Hope you all have a very Merry Christmas, and a Happy New Year!

---
---
---
For extra fun - have a look at our Christmas Past !!!
---